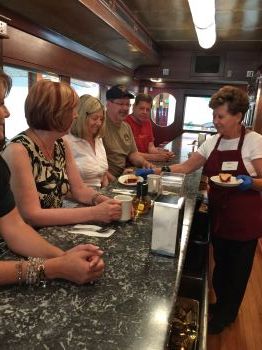 With limited staff, volunteers really 'make it happen' for us in so many ways:
Serving pie and coffee to guests in our restored 1938 Diner; you don't have to bake the pies or do the dishes.  But, you do need to enjoy conversing with our guests as they reminisce.  
Mailings - when we are having a special event or getting the quarterly Lincoln Highway Journal to our fans, we could use a hand.
Greeter -  A quick smile and cheery disposition is all that's needed when our visitors walk in.
Committee Work – Do you get a kick out of throwing a party or planning programs?  Please call and discover a good match for your interests.
Beautification – now that we have our own site, there are flowers to be watered and weeds that need to come out!  If you have 2 mornings a month during the growing season, it would be a huge help.  With 6,500 vehicles passing by every day, we want to look our best.
---