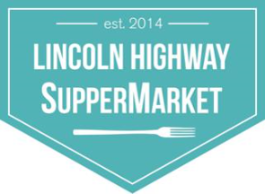 Enjoy freshly prepared a la carte items offered by several Chefs in one location (under the shade of the trees of the Lincoln Highway Experience, 3435 State Route 30 E. Latrobe, PA 15650) every Wednesday from 5 pm to 8 pm in June, July and August (weather permitting). It's where old and new friends share a picnic table and listen to live toe-tappin' music. An all-cash weekly event, with modest parking fee per car.  The expectation is for all adults attending SupperMarket to purchase supper from our Chefs. 
Not permitted:  outside food, smoking, or pets.  Decisions to cancel (due to weather concerns) Lincoln Highway SupperMarket will be made by noon each Wednesday. Go to our News and Events Tab; then click Newsroom.
Our scheduled Musicians for 2020:Tim Bush (June 17), Jeff DeMao (June 24), Detention (July 1 & Aug 12), Max Keefer (July 8), Chris Volpe (July 15), Heavenly Biscuits (July 22 & Aug 19), Hamilton Avenue (July 29), Tim Roberts & Stacey Meyers (Aug 5 & Sept 9), Gashouse Annie (Aug 26), DejaVu (Sept 2). 
Our Chefs for 2020:  Aroma Italiano, Catering Creations, Chef Dato's Table, Connections Café, and Grateful Smoke.